Spitfire Mk XIV Rhapsody in Blue Rolls Royce's Spitfire in 1/48
I've long admired the glorious turquoise and white scheme that adorned Rolls Royce's Mk XIV Spitfire in the mid to late 1060's just before G-ALGT played a supporting role in the epic film the 'Battle of Britain'. A challenging build with a number of self-imposed setbacks, not the least of was an episode with an acrylic top coat after the decals were applied that resulted in a stripping and partial repaint, it is with no small measure of relief that GT joins the rest of movie stars in display cabinet!

I'm not sure if this model is best described as a 'kitbash' or a conversion; it consists of Hasegawa Mk IX wings, horizontal tail surfaces and a modified fuselage. The Hasegawa fuselage was modified by removing the Merlin and grafting on an Airfix Mk 22/24 Griffin nose and an Academy Mk XIV vertical tail and rudder. I chose to base the model on Hasegawa's Mk IX/VIII for a couple of reasons. The companion BoB movie star Mk IX is a Hasegawa and I wanted there to be a definite relationship between differing marks. Using the same kit as the base insured the small details and nuances would match. Any differences between the models would not be due to differences in the kits, and would represent the development of the real aircraft.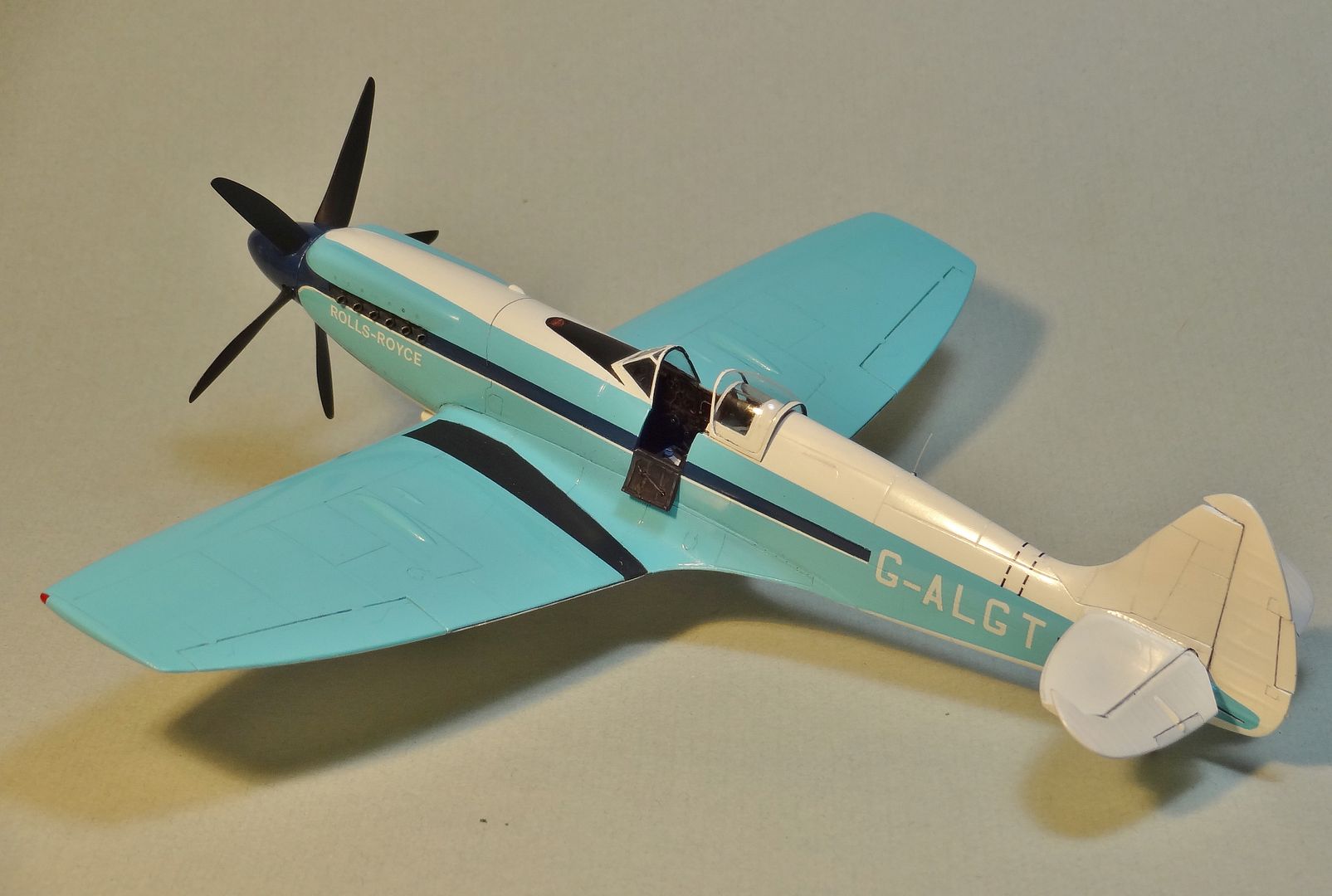 Other changes to make a Mk XIV from a Mk IX include, larger radiators, larger wheel with different tyre. A bit of trivia: these tyres were sourced from Buccaneer /Sea Vixen nose wheels when Spitfire specific replacements became scarce. (Note my use of tyre vs tire as a nod to subject ancestry in spite of my yanky origin)
G-ALGT also had the tailwheel locked down, the doors notched to fit around the extended strut, closed and deactivated. These are all documented in the work in progress posting here: http://www.britmodeller.com/forums/index.php?/topic/234922144-spitfire-mk-xiv-g-algt-148-conversion-return-from-the-shelf-of-doom/
Just a hint of weathering as befitting an active aircraft.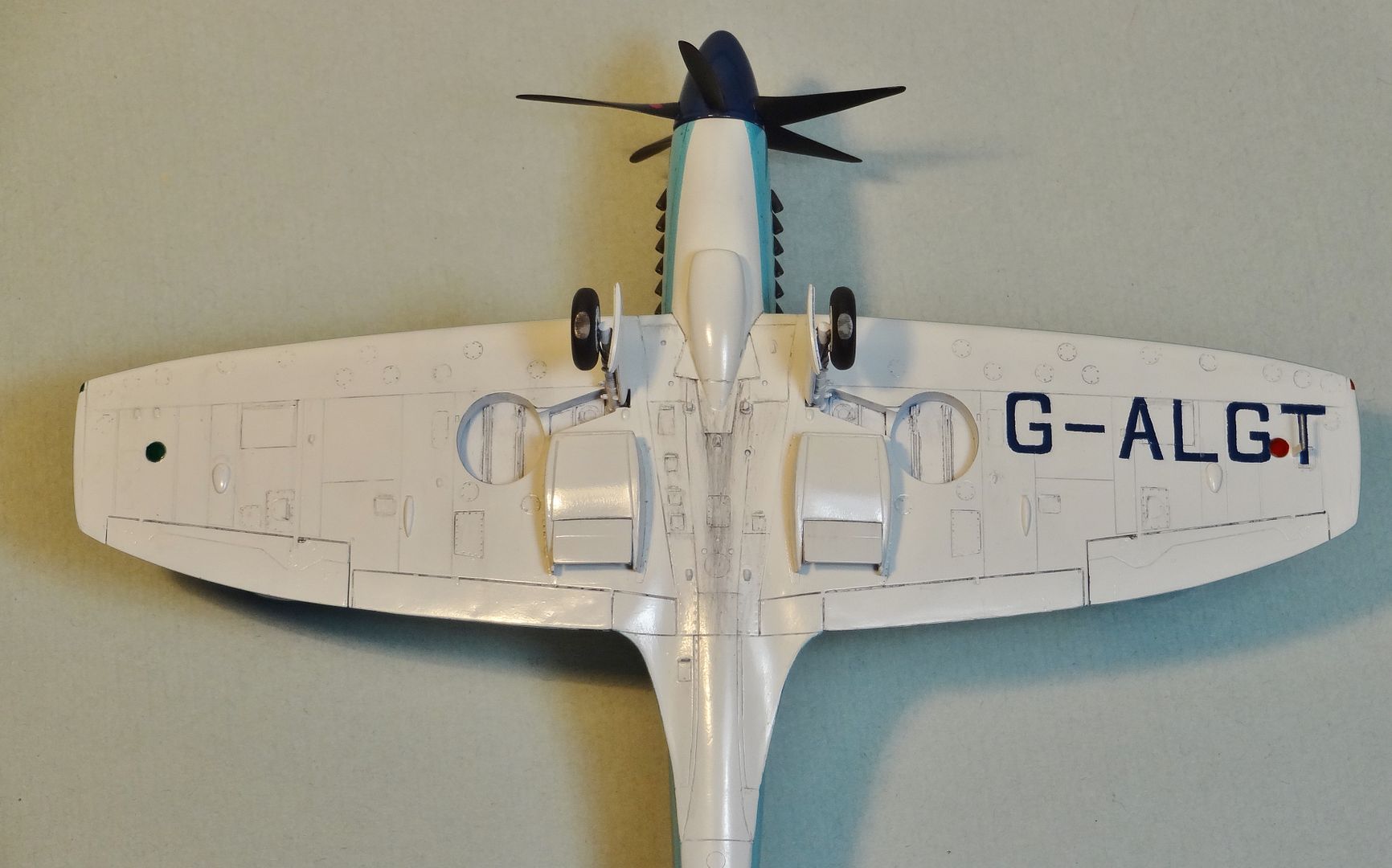 As some of you may remember, this model is part of a series of aircraft used to film the movie 'Battle of Britain' the other movie stars have already been completed. Here is G-ALGT alongside her cousin, Spitfire Mk IX also playing a part in the movie, MH415 already in costume. This allows a comparison between the two marks.


A short history of G-ALGT
Built in 1944 as a Spitfire F.XIV, construction number 6S/432263 was given the RAF serial RM689 and entered service with 39 MU on 3rd July 1944. Participating in Air Fighting Development Unit trials in the fall of 1944, RM689 apparently suffered some damage as she was repaired on site in September 1944. Turned over to the 83 Group Service Unit in February of 1945, RM689 was then assigned service with 350 Sqn and 443 Sqn, being transferred to the Ministry of Supply on 9th February 1949. Rolls-Royce then purchased the Spitfire and received the registration G-ALGT. Based at Hucknall, GT was used for many years for Griffin engine development work and a chase/communications aircraft.
In 1967 GT joined the cast filming the move the 'Battle of Britain', trading her colorful civilian dress for a drab wartime costume. Replacing the original short wingtip fairings with standard length tips helped her play the supporting role of an earlier mark in the summer of 1940. After filming was complete, she retained the standard tips and flew for many years marked as RM619.
Tragedy occurred June 27, 1992, at the Woodford airshow when pilot David Moore was killed when unable to recover from a loop began at too low an altitude. The wreckage was stored for a number of years and a restoration project was begun in 2002. Quite some progress had been made but the project was halted in 2010.

Eric aka The Yankymodeler
8 additional images. Click to enlarge.
---