Horse of a different color Cavalier Mustang 1/48 Tamiya conversion
Build a couple years ago, I was unpacking this from the trip back from the IPMS Nats in Orlando, and thought I'd get a couple pics before putting it back in the display case. I have many happy memories of attending airshows with my father and the dancing yellow Mustang of Bob Hoover was always a highly anticipated.
The Cavalier Mustang is a civilian-ized version of the North American P-51 Mustang. In 1957, Trans-Florida Aviation in Sarasota, Florida, (which was renamed Cavalier Aircraft Corporation in 1967) was formed with the objective of transforming the P-51 into a fast and powerful executive business aircraft. Cavalier Mustangs were rebuilt from the ground up, removing all unneeded military equipment and adding features like a second seat, cockpit soundproofing, improved cockpit ventilation, modern avionics, and a luggage storage bay. One of the most recognized is surely the Mustang flown by Robert 'Bob' Hoover. N51RH was purchased in 1971 to replace an earlier Mustang damaged by an exploding oxygen bottle.. Hoover and the yellow Mustang became famous for precision aerobatic displays though out the world. As a working aircraft, N51RH went through many changes and modifications throughout over twenty years of service. This model represents N51RH as it appeared in the mid 1970s.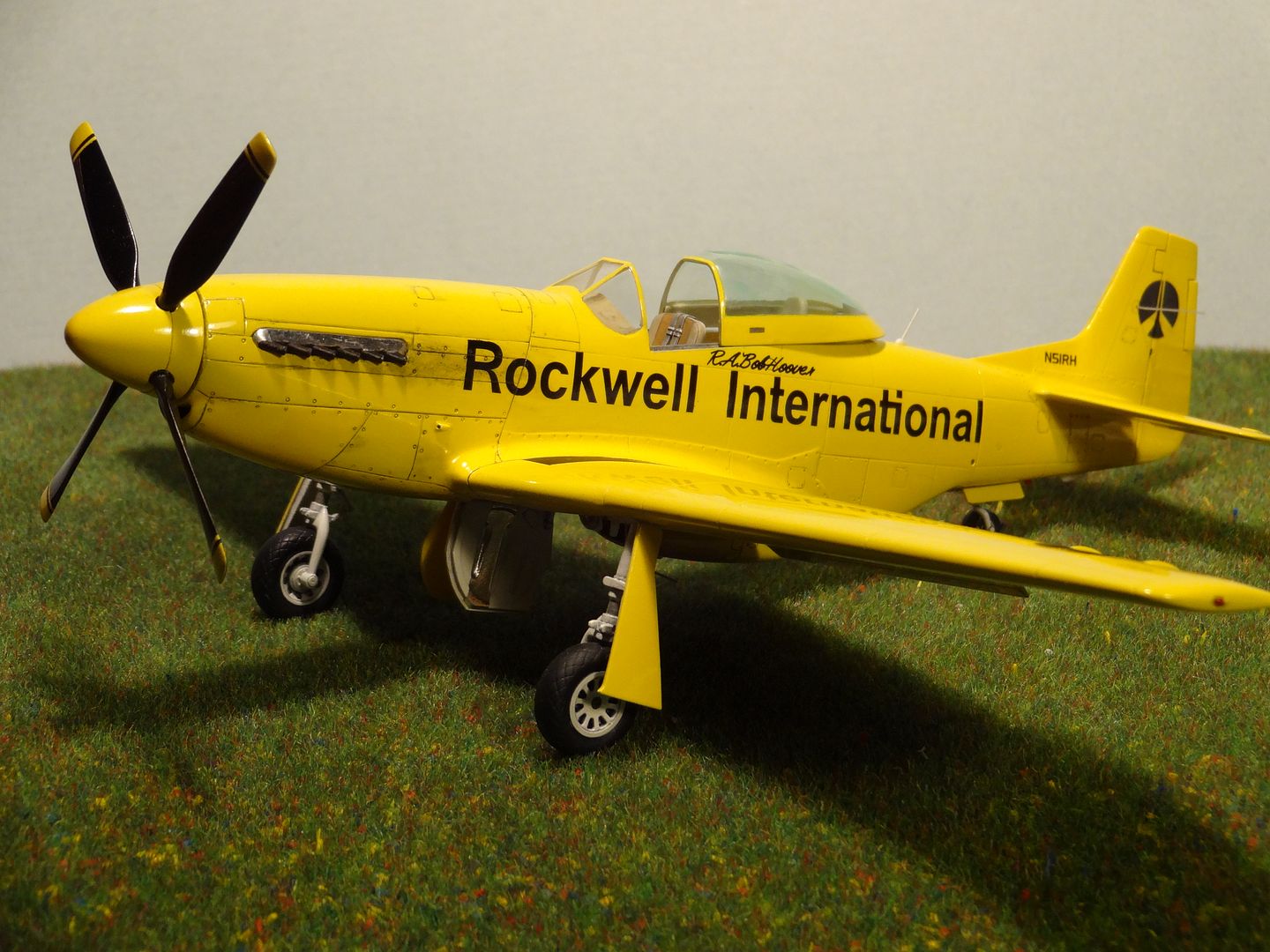 It all started with a gift from a friend (thereafter known as my project instigator friend) of a very nicely done decal sheet for the 70's era Hoover Mustang. Hoover had become one of my boyhood heroes with his precise and smooth demonstrations of aerobatics and many hours of my youth were spent at dozens of air shows watching Hoover and the famous yellow Mustang perform. I must admit to hording the decals for a number of years until my benefactor convinced me to get off my duff and get started. Oh yes, as long as I was building one kit I could build a copy just as easy since he had obtained a second set of Hoover's markings! What are friends for? The Korean War version of the venerable 1/48 Tamiya P-51D kit was modified into a Cavalier Mustang as it contained the uncuffed Hamilton Standard propeller and longer pointed spinner needed for the conversion.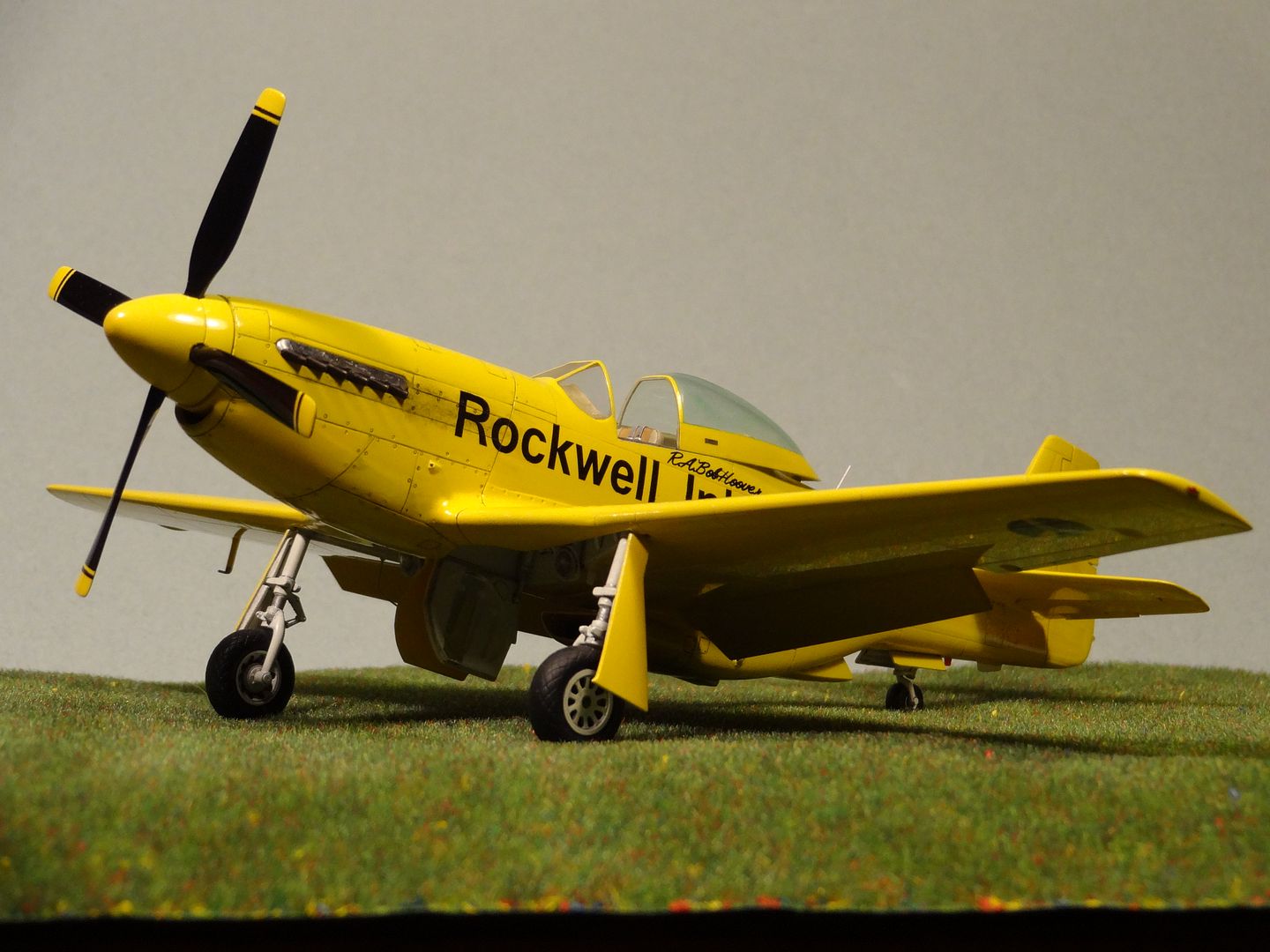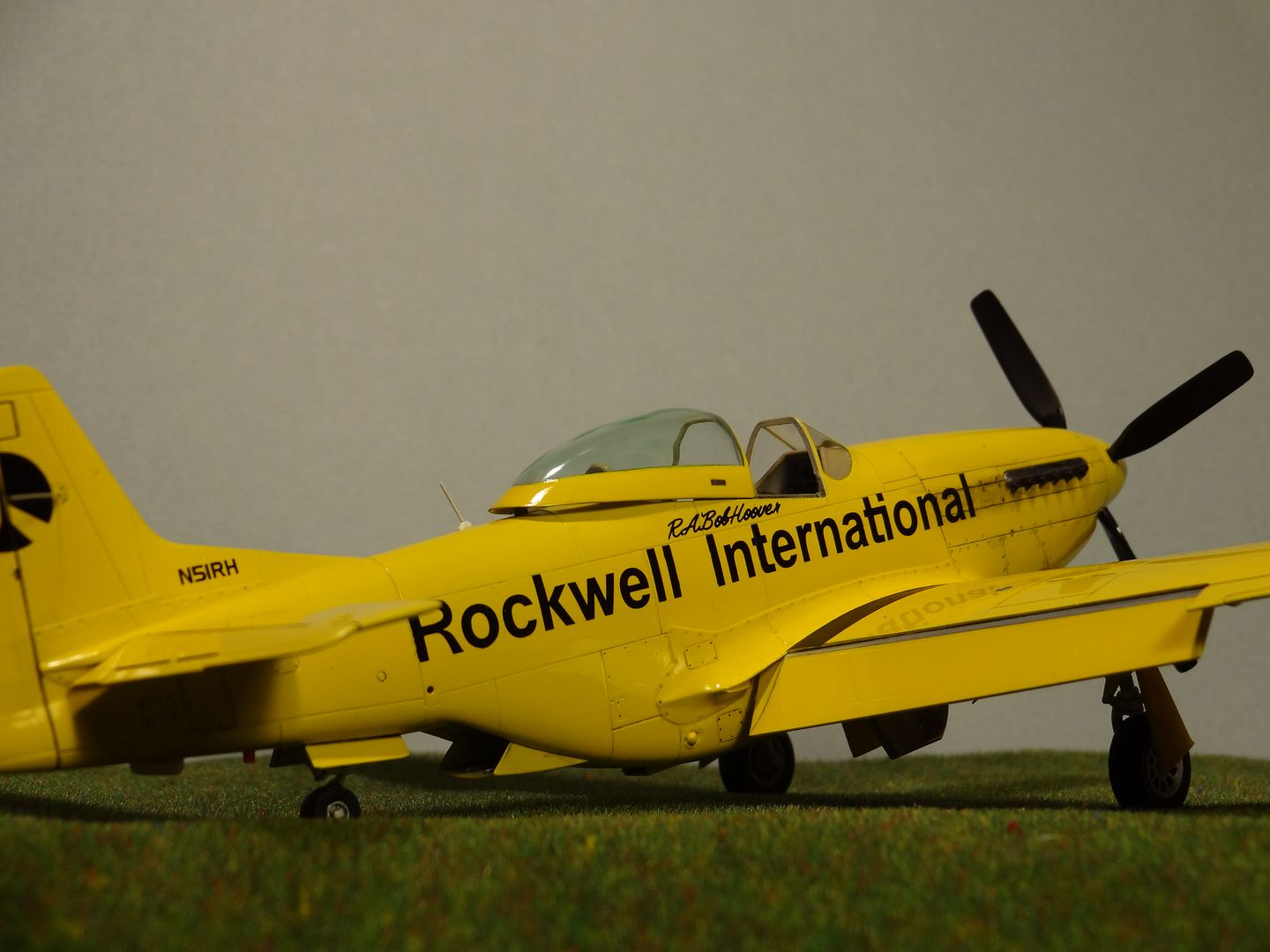 Changes to the cockpit started by replacing the kit parts with a Blackbox resin cockpit modified to civilian configuration by removing military armament panels and adding civilian instrumentation and radio panels. The fuselage fuel tank and radio were removed and the rear cockpit floor replaced. Pilot and passenger seats and cushions scratch built and seat belts/harnesses fabricated using foil from top of wine bottle. (A Zinfandel I believe). The canopy was replaced by spare part having a more bulged rear profile and green tinting added by airbrushing a mixture of Future with a drop of Tamiya clear green acrylic.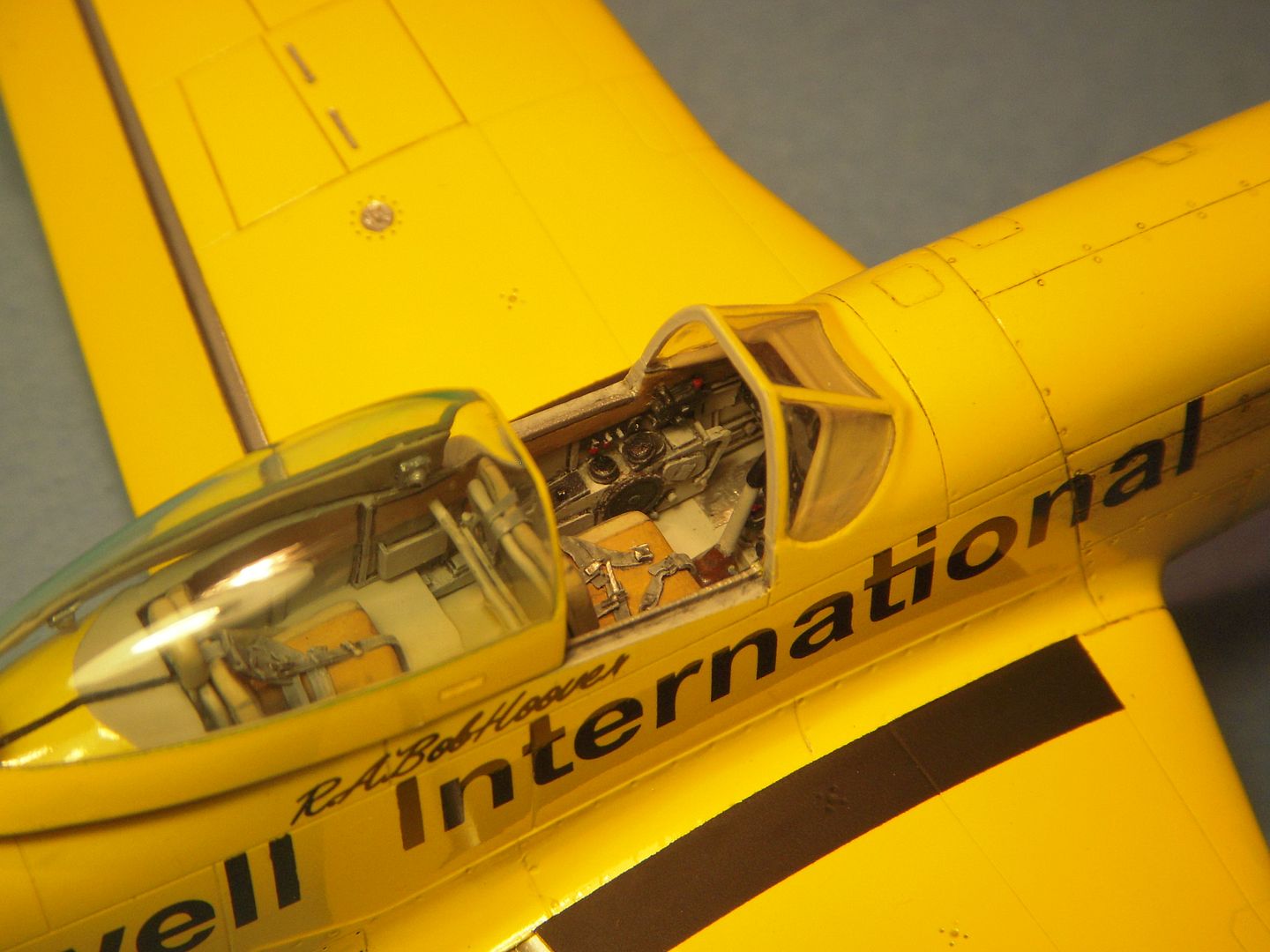 Finish is a custom mix yellow Testers enamel built up in thin coats allowed to thoroughly dry between applications. A light wet sanding with 1200 paper removed small imperfections and the surface polished with fine automotive swirl remover. The decals were applied and after drying two coats of Future airbrushed at about 15 psi. After the future had dried another VERY light wet sanding with 1800 paper to smooth the surface was followed by polishing with the swirl remover.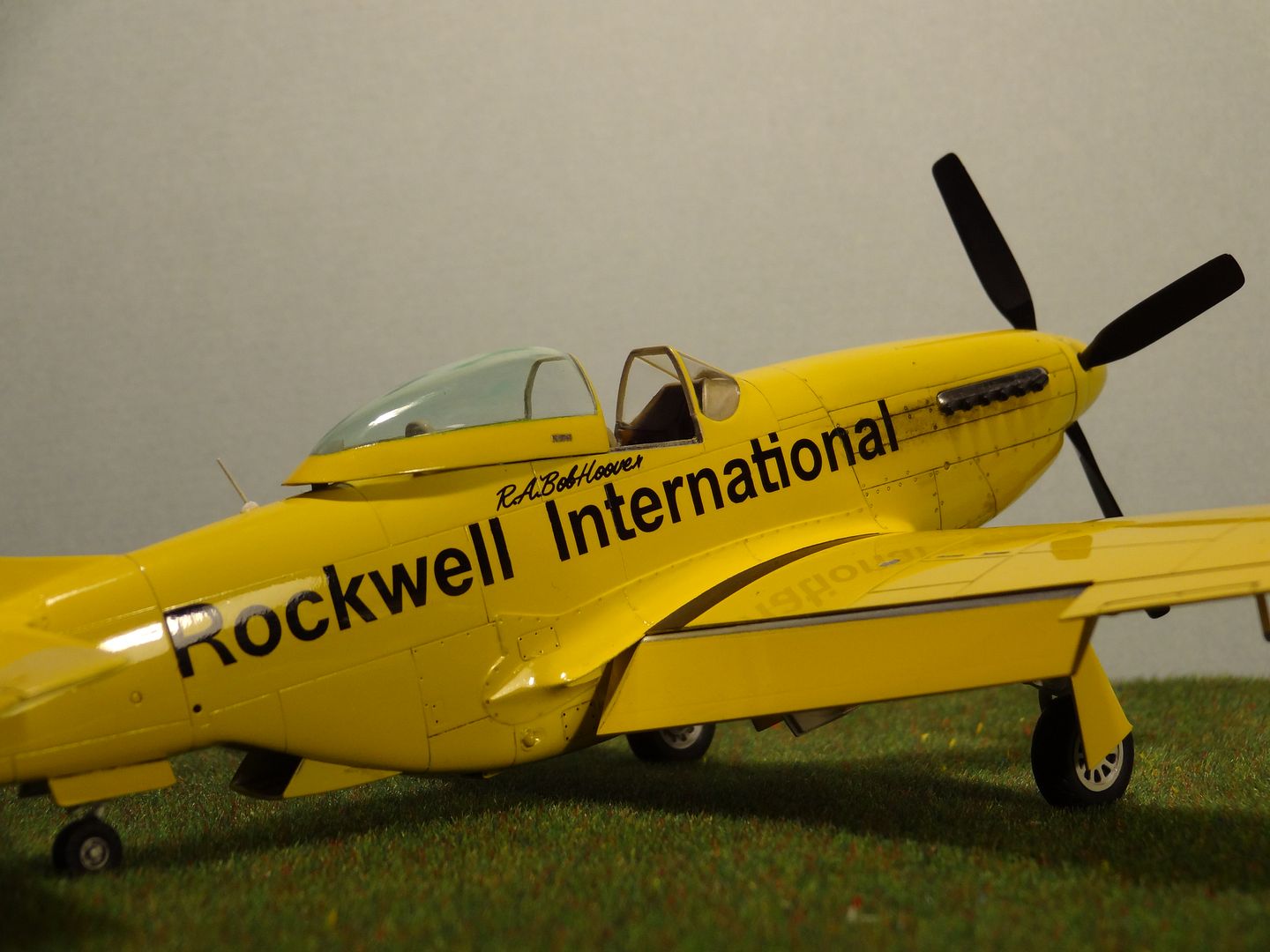 I remember N51RH having shiny polished paint, but as an aircraft that was flown regularly in aerobatic demonstrations, I also recall exhaust stains and oil on the Mustang's flanks until it was wiped down after the show. Air show aircraft worked for a living and I wanted to depict this so light weathering was applied.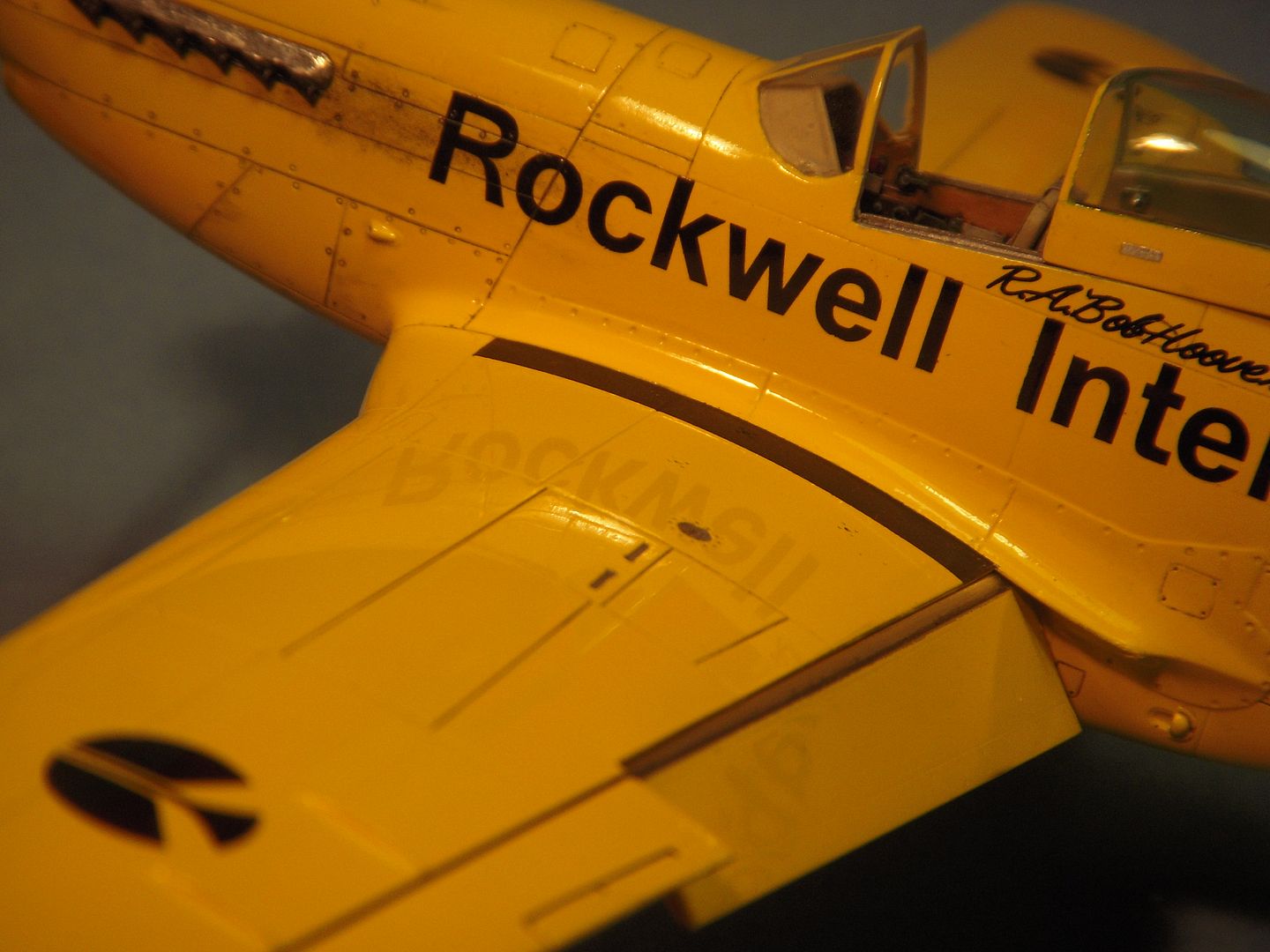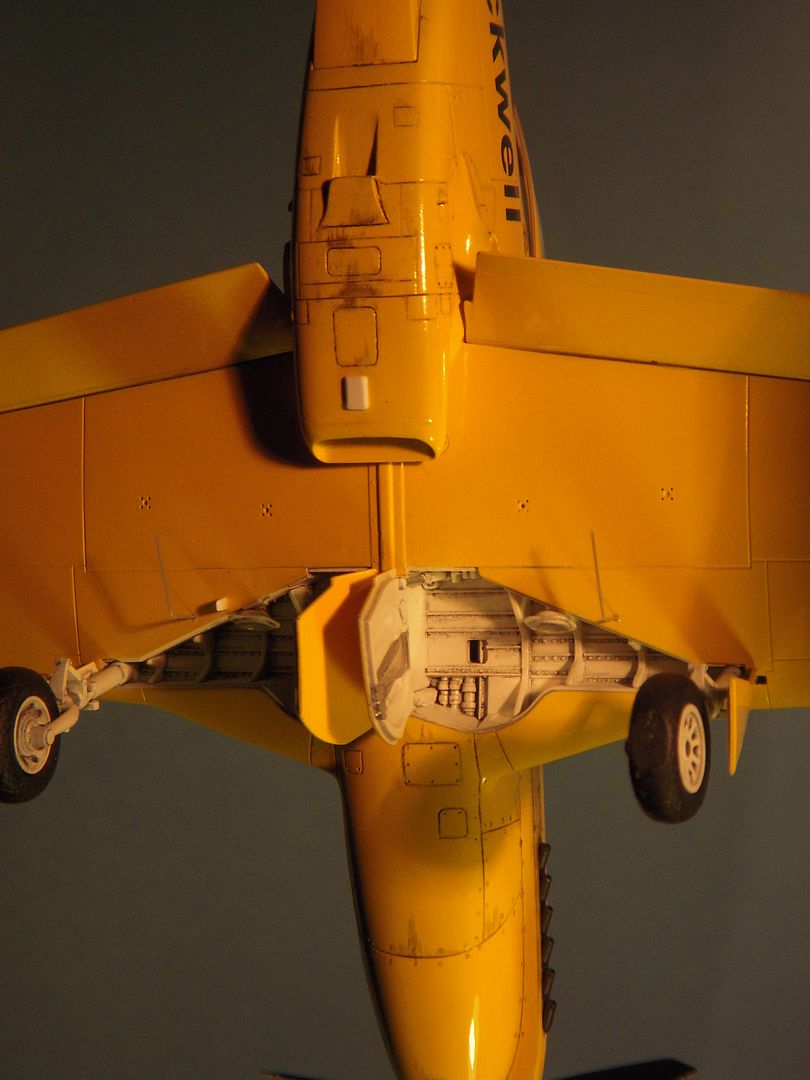 It just so happens my friend has two sets of markings for the Mustang racer 'Miss America' and an extra Mustang kit...
Oh yeah, we did pretty good at the IPMS Nationals!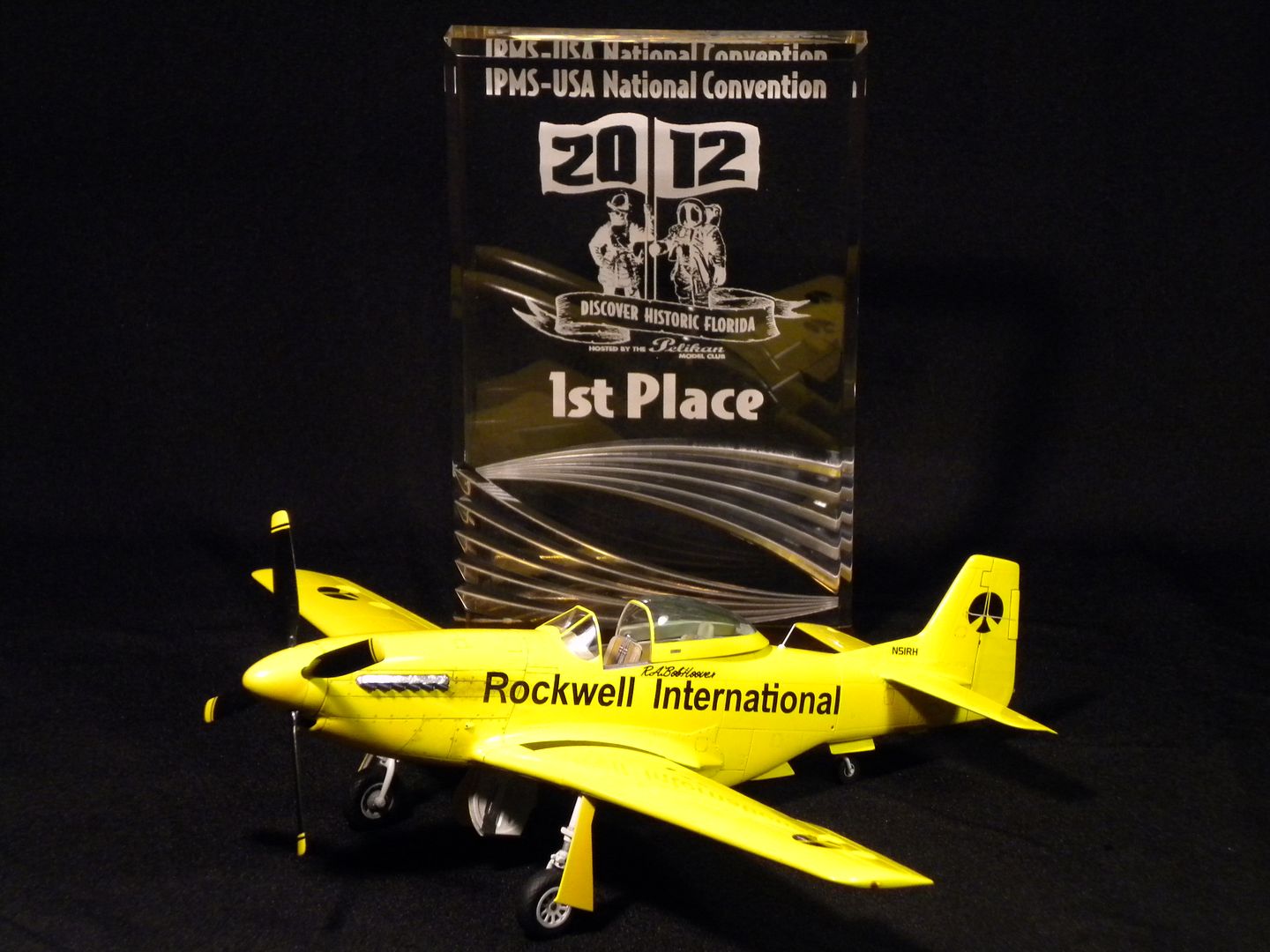 ---