Stars of the 1969 movie "Battle of Britain" seen together for the first time! (1/48 collection)
January 23, 2013 in Aviation
Seen last fall at a model contest just outside of Baltimore, as the crowds admired the many impressive models attending the event, a group of aging movie stars was seen gathered together on the collections category table. An enterprising paparazzi photographer was able to capture a few candid pictures as a small group of admirers reminisced of the glory days of aviation films when real aircraft, flown by real pilots, performed for the cameras.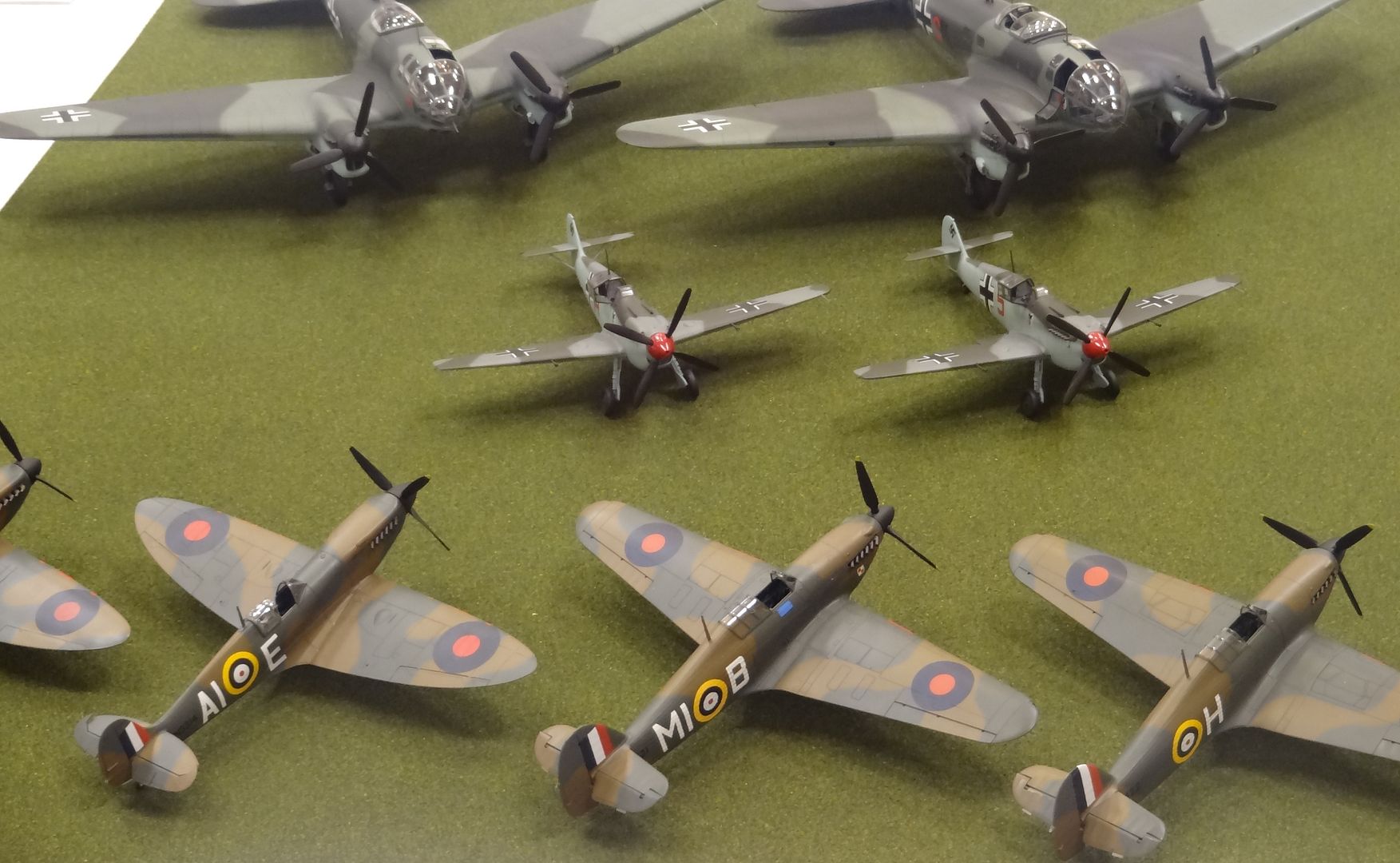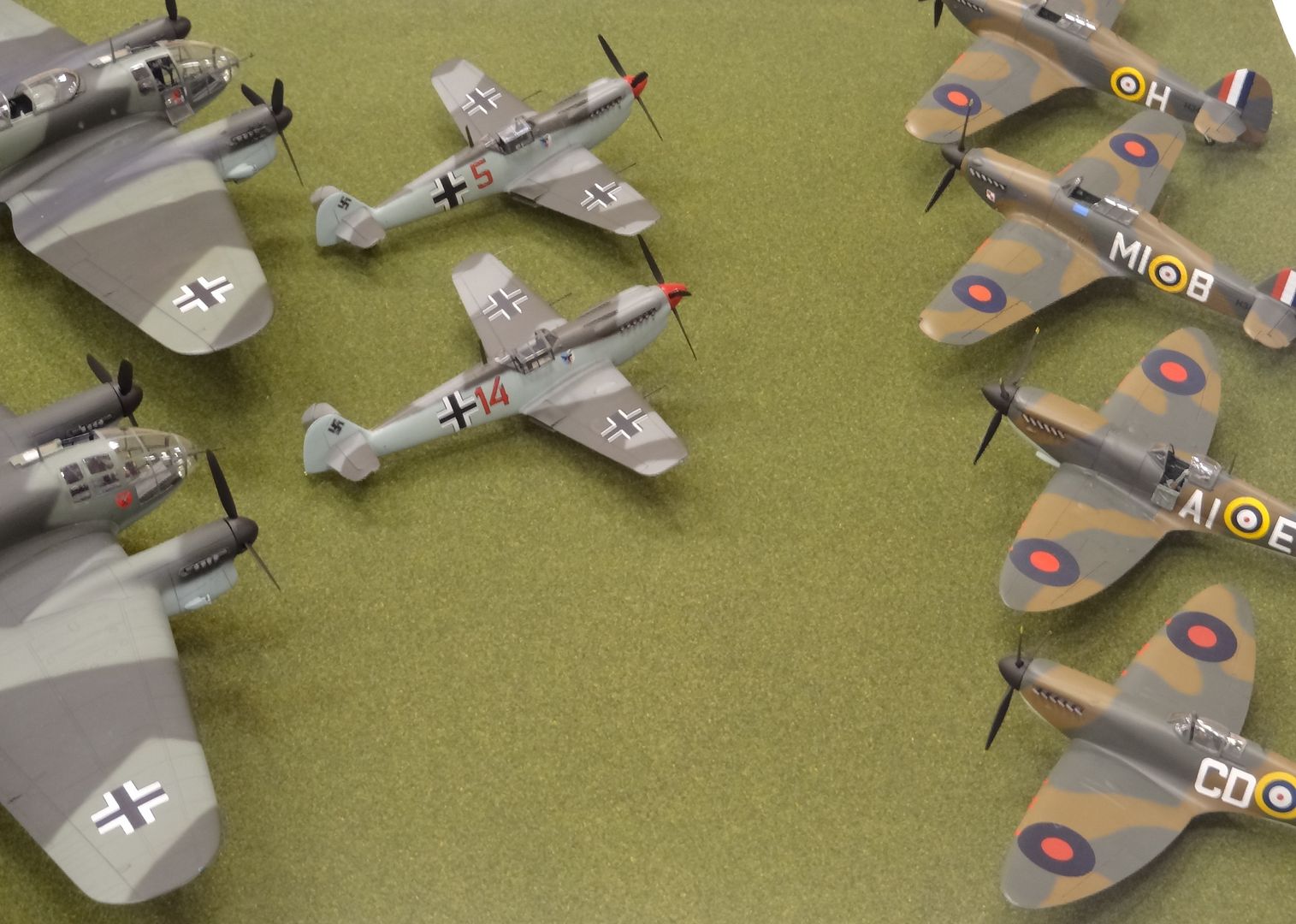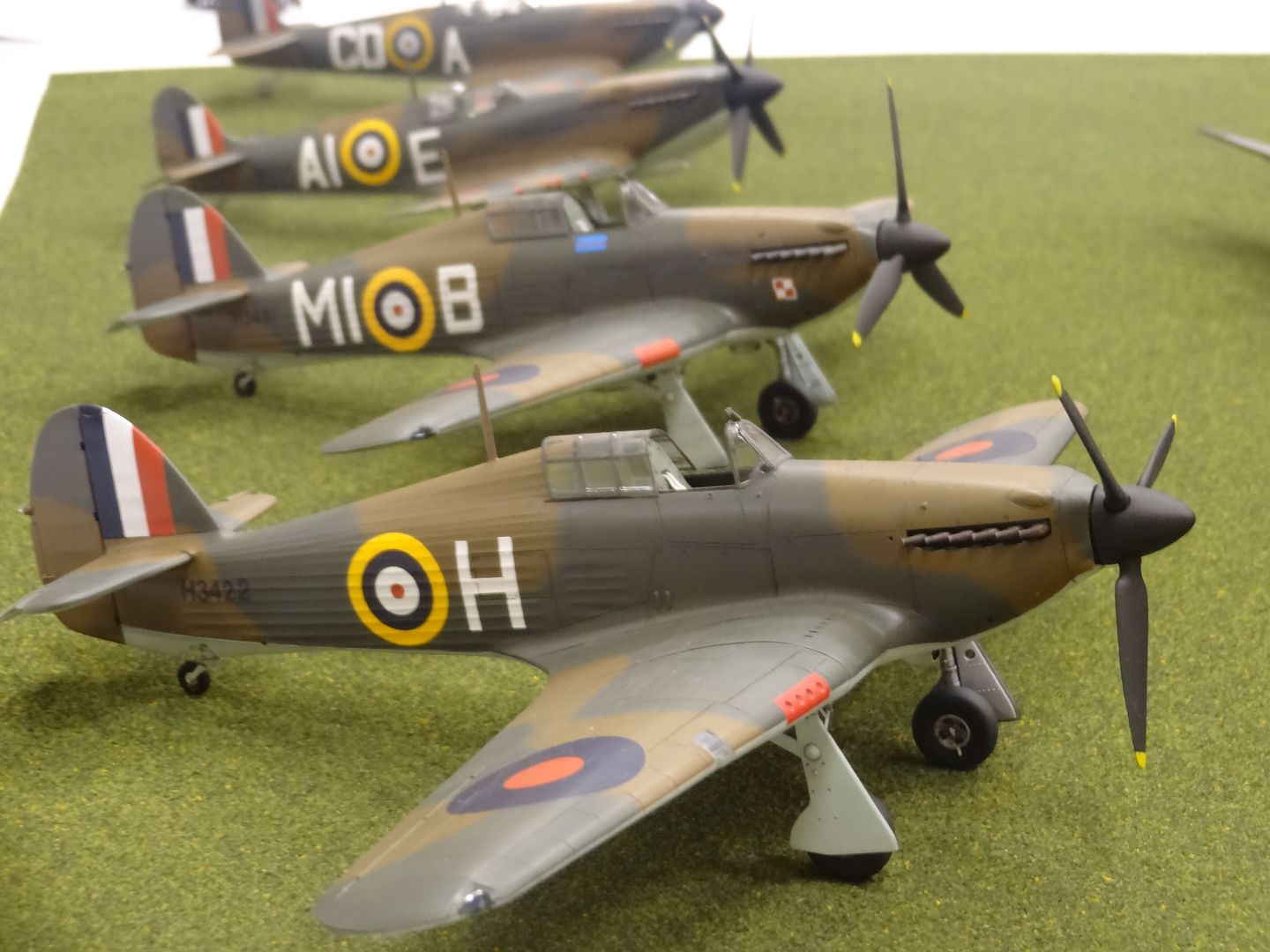 Note this is the first time I've had the entire collection together. I delivered the fighters to my Project Instigator Friend before the CASAs were built.
Here are a few close-ups and short biographies of the cast.
HA-1112-M1L, C.4K-169, factory number 234. (1/48 Academy )
One of the 17 Buchons purchased through Spitfire Productions Ltd for use in filming the 1969 movie "Battle of Britain". Given the British registration G-AWHT, it was flown to Duxford and assumed numerous costumes including that shown here, Red 5. G-AWHT (in company with Spitfire MH415) was equipped with flash bulbs in the gun positions to simulate muzzle flashes, but this did not work as well as expected and the flashes were dubbed in during editing.
After filming was complete, the ˜Messer" as the Spanish referred to the type, was bought by one of the film pilots Ed ˜Connie" Edwards and shipped to Harlington, Texas to become one of the first of the Confederate Air Force collection registered N9939. After enduring a number of mishaps, it was bought by Harold Clovis of California and re-registered N109W. In December of 2009 it was sold to the Air Fighter Academy GmbH. and shipped to Germany as D-FMVS. The aircraft continues to fly today.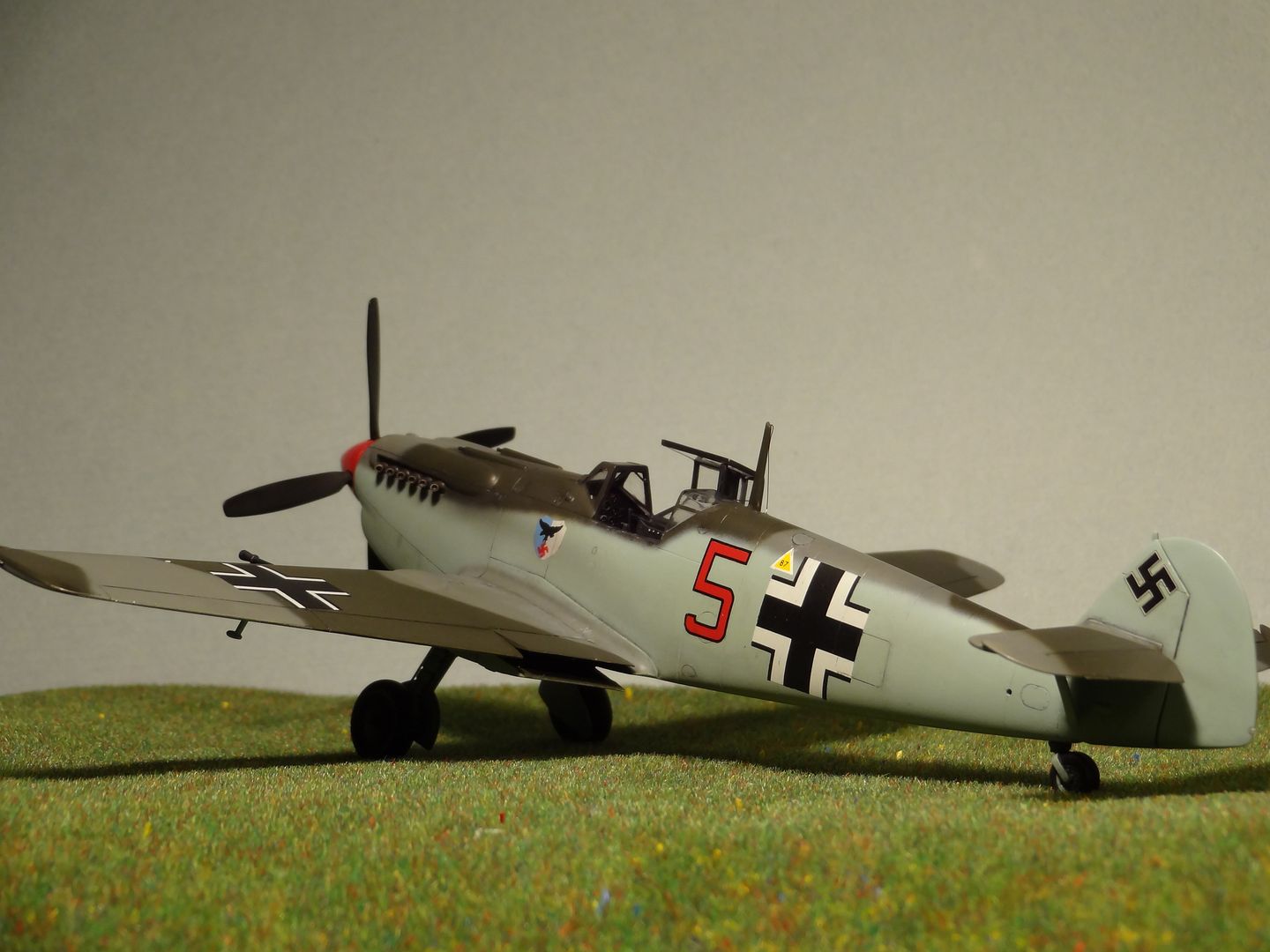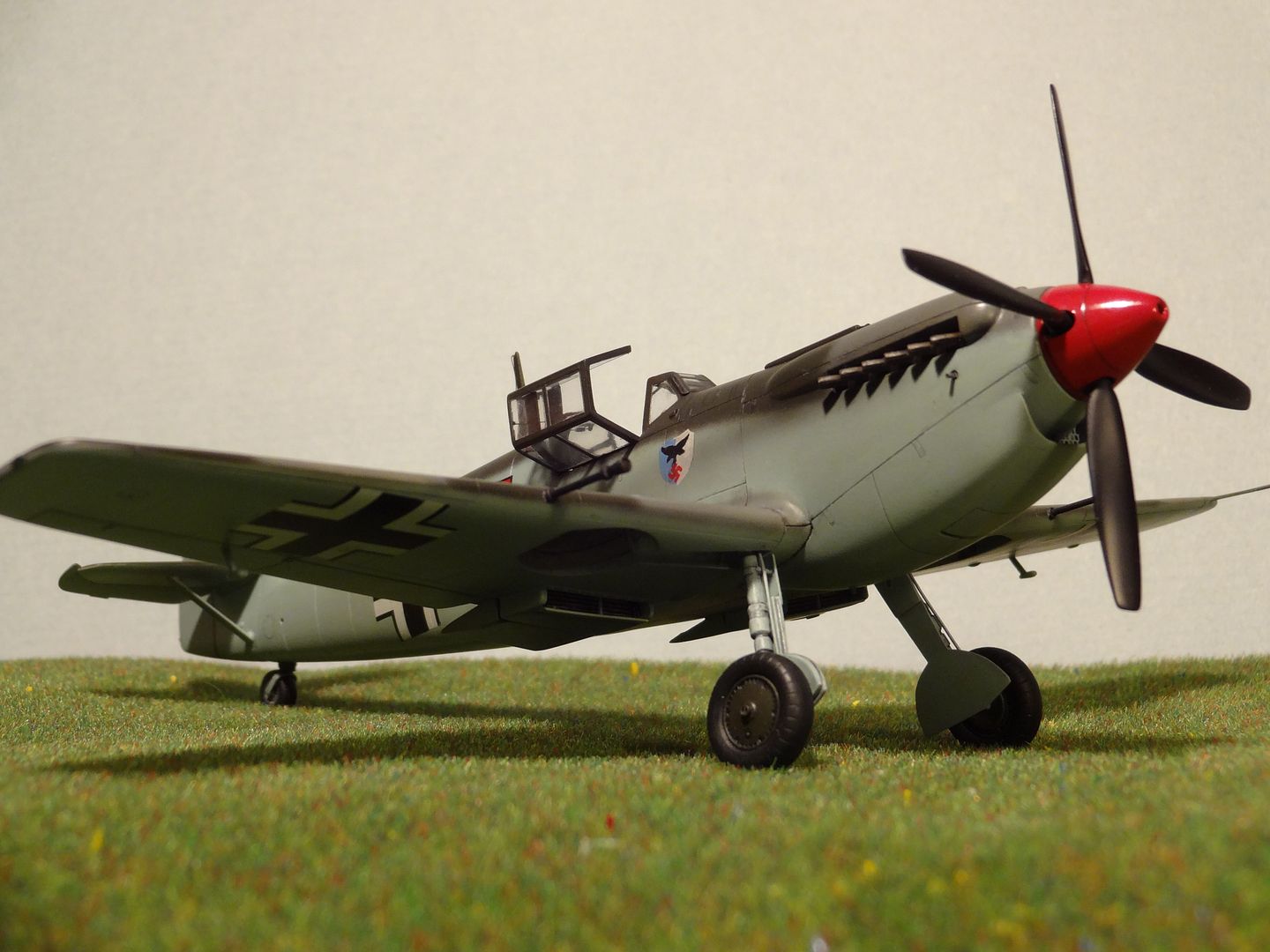 Hawker Hurricane Mk IIC (1/48 Hasegawa)
The last of 14.533 Hurricanes ever built, PZ865 rolled off the production line as a Hurricane Mk IIC at Langley, Buckinghamshire, in the summer of 1944 with the inscription "The Last of the Many" on her port and starboard sides.
The aircraft was almost immediately purchased back from the Air Ministry by Hawkers and initially mothballed, before being employed as a company communications and test aircraft with the civilian registration G-AMAU. In 1950 it was entered in the King's Cup Air Race by HRH Princess Margaret. Flown by Group Captain Peter Townsend it achieved second place.
During the 1960s, PZ865 was returned to its wartime camouflage scheme and continued its use as a company hack and communications aircraft. In 1968 it was leased by Spitfire Productions Ltd for the filming of "The Battle of Britain. One of the roles PZ865 played was the mount of S/L Edwards, in leader of the in-training Polish squadron T9 that dove into battle rather than following instructions to fly heading "¦two, three, zero" This is the part the model depicts. After a complete overhaul, PZ865 was flown to Coltishall in March 1972 and donated to the Memorial Flight by Hawker Siddeley.
Supermarine Spitfire MK IX ( 1/48 Hasegawa )
Spitfire MH415 was built by Vickers Armstrongs Ltd in the summer of 1943 at the Castle Bromwich Aircraft Factory as an LFIXb. The aircraft was delivered to No.129 squadron at Hornchurch in August 1943, serving with a number of RAF units including the Air Fighting Development Unit at RAF Wittering. The aircraft must have suffered some damage for in early January 1945 it was transferred to Vickers Armstrongs at Oxford for repairs and modifications and then into storage.
In August 1946 MH415 was sold to the Dutch Government and served with the Royal Netherlands Air Force in Java. It was stored for some time before being sold to the Belgian Air Force in April 1953 being retired in 1956.
MH415 was sold in June 1956 to a Belgian company COGEA, which had a target-towing contract with the Belgian and NATO forces and was registered OO-ARD.. In 1961 it was leased for film use in 'The Longest Day', which was filmed on location in France.
MH415 was then purchased by Rousseau Aviation of Dinhard in France, where the aircraft was in open storage for some years.
In 1966 Hamish Mahaddie on behalf of Spitfire Productions Ltd, was collecting aircraft for the forthcoming film The Battle of Britain. The aircraft was dismantled and shipped to Simpsons Aeroservices Ltd for an overhaul, being registered G-AVDJ on 29th December 1966. The aircraft was stored during most of 1967. In early 1968 filming had started in Spain, and a Spitfire was required for location work. MH415 was chosen and prepared, a 90-gallon drop-tank being fitted. In late March it left the UK, flying via France to Tablada Air Base in Spain.
On 11 May 1968, the well traveled Spitfire returned to England in company with 17 Hispano 1112s, 2 CASA 2.111s and the B-25 camera-ship. On 14th May MH415 arrived with the film unit at RAF North Weald also flying out of Debden, Duxford and Hawkinge. The weather in the summer of 1968 was dreary, often unsuitable for filming, so it was decided to move the aerial unit to the South of France. MH415 and a number of other Spitfires and Hispanos were flown out to Montpelier for three weeks in August, and the necessary footage was obtained.
MH415 wore many markings during filming, including N3312/AI-C, N3311/CD-B, N3321/AI-M, N2210/CD-A, N3310/AI-A, N3322/AI/N, N3319/DO-K and N3314/AI-E. This Spitfire (as was Hispano C.4K-169) was fitted with strobe lights in the machine gun ports, the only British member of the cast to be so equipped. This experiment did not work as well as expected, and the flashes were dubbed in during editing. MH415 and was flown for a total of 125 hours during filming.
One of the film unit pilots, Texan Wilson "Connie" Edwards, bought MH415 on completion of its film duties and had it shipped to Houston, Texas, where it arrived in January 1969. MH415 was delivered to the Edwards ranch at Big Spring and was registered N415MH. It was repainted and 222 squadron codes ZD-E were applied. The aircraft has flown little since its arrival in the USA.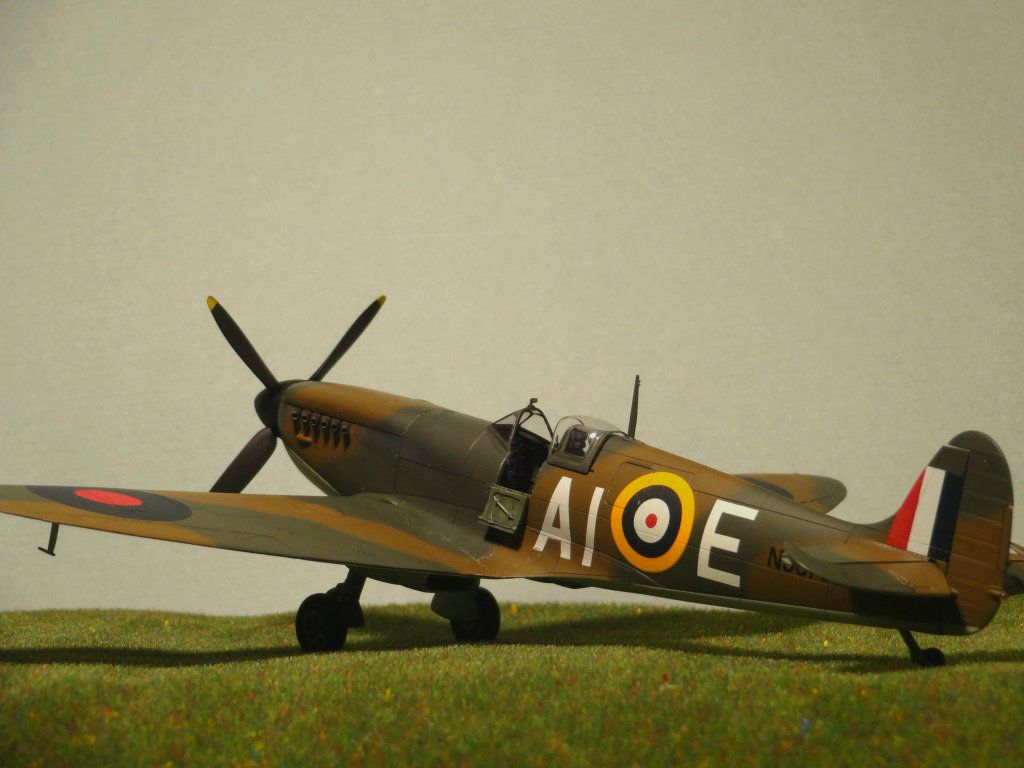 CASA 2.111A, ( 1/ 48. Modified Monogram He-111 )
Serial number B.2H-25, was built in 1948 powered by with Jumo 211 engines. It was rebuilt in 1957 as B.2I-77 and reengined with Rolls Royce Merlins continuing to serve with the Spanish Air Force until purchased by Spitfire Productions Ltd. in 1968, and flown to England for the filming of the movie 'The Battle of Britain'. Registered G-AWHA, the CASA along with sister G-AWHB assumed many identities for the film, usually seen streaming smoke while hounded by Spitfires and Hurricanes.
In the fall of 1970 B.21-77 received the German registration D-CAGI and made its last flight into the Deutsches Museum storage facility at Erding. In 1982 it was moved to the Schleissheim storage facility and placed on display at the Deutsches Museum in 1992.
A complete restoration to return the aircraft to it's original Spanish Air Force service condition was undertaken in 2000 and on completion in 2009 was placed on display at the Deutsches Museum in Oberschleissheim near Munich.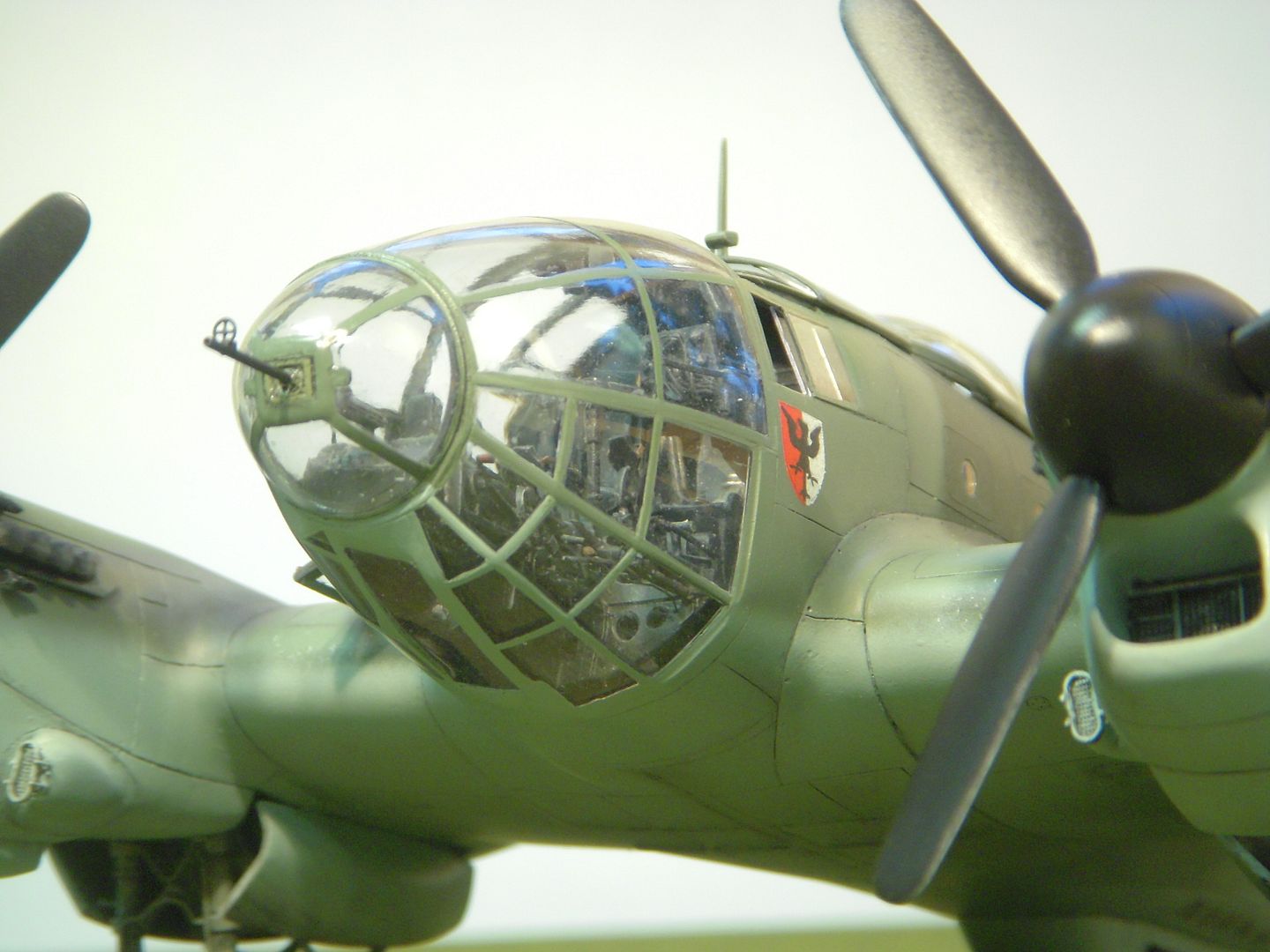 This short lived era which saw the production of aviation films such as, Battle of Britain, Tora Tora Tora, Catch 22, and The Blue Max, was arguably the catalyst that started the warbird restoration movement. Many of the aircraft needed to film the movies had been left to rot away before the studios recovered and brought them back to flight status. When filming was complete, these aircraft became available to a market that had a rekindled interest in military aircraft.
Eric aka The Yankymodeler
11 additional images. Click to enlarge